Power supply units - otherwise known as PSUs are an important part of the Computer. It just won't work without one !
All Oric power supplies were the same weren't they ? I thought they were! Well they aren't. There are three that I can think of. I'm assuming the first two came with the Oric-1 and by the time the Atmos came, Oric were using the PSU familiar to most of us.
Here then is what I believe to be the first Oric PSU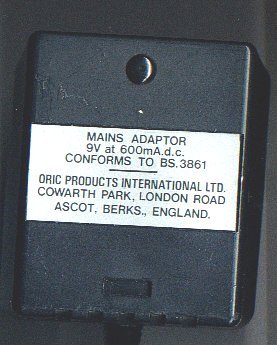 This looks a fairly basic model that would be supplied by another manufacturer and Oric put on their own label. Again a basic design with black ink.
Presumably when funds increased they paid for a slightly better model
This features the improved label with blue ink. The PSU itself in made in the UK adn is now 5.4VA. I've seen a few of these about so they may have been a fairly common power supply for the Oric.
Next came the familiar, larger PSU.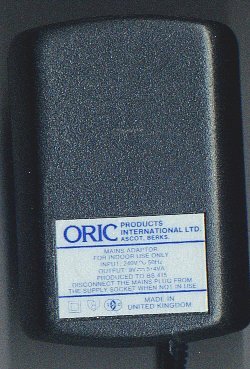 This is the one most of us will know. It may well be the same internally as the previous model, but with the nicer case. The label is printed on a slightly different label with a plastic coating which I would guess is a bit more expensive. So - if I'm right, Oric gradually spent more money on the PSU. This may be boring the pants off you , but it may be significant to Oric history.
The original PSU may not have been reliable enough or considered suitable for mass market. The improved designs would appear more expensive adn if so may have added to costs. Oric, I believe, didn't expect the ensuing price war which they helped bring about by undercutting Spectrum. They retalliated by reducing their prices which Oric tried to match. I don't think Oric had budgetted for producing their machines at these new prices.
Well it's all speculation, but quite possible.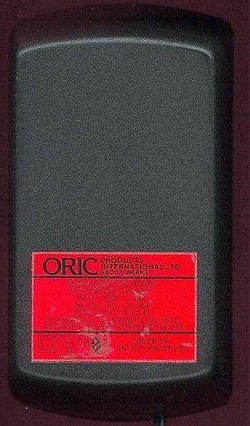 This is a new find, and thanks to Jim Groom for sending it in ! It appears to be a recoloured version of the old label, presumably to match the Atmos colour scheme. It also appears to be a different size of case to the older Oric-1 style PSU, with a somewhat flatter and slightly longer shape.
Norwegian PSU !!!
A nice chap, Stig Rune Johnson contacted me with news of another Oric PSU. This one was made especially for the Norwegian Oric-1s. Apparently later models had the more usual power supply. Cast your eyes on this though !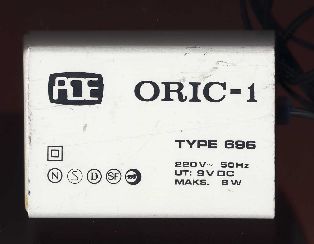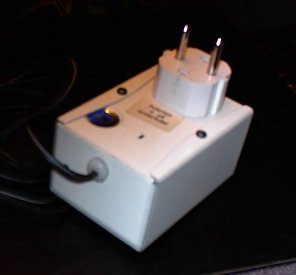 Not many of those about, I would reckon. Many thanks Stig !
Has anyone else got details of Oric products ???