COLLECTORS CORNER #5
Softek software - New revised edition
Time now for a look at the software house Softek. One of my favourites this ! Back when I only had a handful of tapes I owned Dracula's Revenge. A great game that had me on the edge of my seat as the nasty vampires chased me around and there was no daylight to shine through the windows to get rid of them. Run, run away ! Ahem....
Softek cassettes underwent a bit of a change. First their titles had nice sci-fi pictures with yellow letters and a logo, also in yellow with sort of 3D lines moving away from the letters.

At some point they decided on a more vibrant, colourful logo.

It's basically the same one but with 'gold' fronts to the letters and an added red diamond behind. The words "Masters of the Game" finishing off the new look. They also changed the titles from yellow to orange (as in Dracula's Revenge, on the right.

It certainly stands out more !

Then the Atmos arrived ! As we have seen , the black and red chappie altered many designs. Softek added a red stripe on the spine with the word Atmos across it, as in the Acheron's Rage tape in the middle of the above image.

As you can see they decided at this point to make the title variegated from the original yellow to orange, which stands out all the more.

Now here's the thing. Softek went back and redesigned the older tapes with the new livery. Take a look at this !

I though at the time that this was the biggest difference found on an Oric cassette . Since then we've found bigger changes and more variations.
Now the thing is I'm not sure how many of these Softek titles changed. This was the first one, (going by the serial number ORG1).

ORG2 is Super Meteors, which is in the yellow livery on my version. It must have been redone.

ORG3 is Acheron's Rage, and my version is the Atmos version so I suspect that should have come in yellow.

ORG4 is Dracula's Revenge. Mine is the Oric 1 version but this is orange, as above. It may not have changed at all, or there may be a slight change for an Atmos version. Please let us know what yours is like.

Finally I thought I'd show the cassettes themselves. Softek originally used black cassettes with black labels using the yellow ink. I guess they must have decided to cut costs a bit and print the text directly onto the cassette so white ones were used instead.
Atmos cassettes should be white and Oric-1 versions black. (Note however that the Atmos cassette reads for "48K Oric1" Dracula's Revenge has the newer colour scheme, but as it is for the Oric-1 it has the back cassette.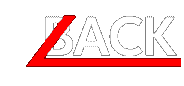 (TO PREVIOUS PAGE )
© Copyright 2004 by S.D.Marshall email me